Perfect your ONIX Metadata with the Software and Services of Onixsuite
THE MOST ADVANCED ONIX SYSTEM AVAILABLE
Integrable with any workflow or title management system
Onixsuite is the most advanced and customizable ONIX system on the market today. Integrable with any workflow or title management system, it gives you unique visibility into the quality of your book data. Even if your current system relies on a "data validator", take advantage of the power of Onixsuite's rule based system.
MAXIMIZE YOUR SALES
And improve profitability
There is no better way for a publisher to maximize sales and improve profitability than with excellent ONIX metadata. There's no need to juggle Excel sheets or to understand ONIX when using Onixsuite. Onixsuite allows you to unleash the power of ONIX 3 to to set prices and availability easily to expand your sales globally. Want to set a different price in Australia vs. the USA; it's no problem with Onixsuite.
DATA OPTIMIZATION
Let GiantChair's team of experts optimize your data for maximized sales
SCORE
Fix errors and problems on your entire catalog, whether it's big or small
DESIGNED
Designed by book professionals for book professionals
USER-FRIENDLY
No need to understand ONIX
CLOUD-BASED SYSTEM
Allows access from anywhere with a web connection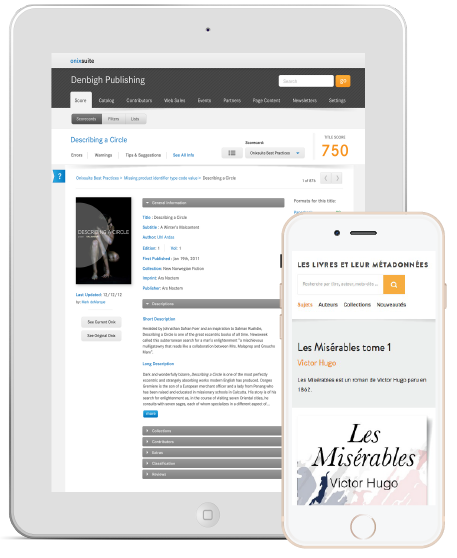 IDENTIFY ERRORS
Identify errors and weaknesses in your metadata before it goes to partners
EXPORT
Automated exports of ONIX 2.1 or 3.0 to all your trading partners
DISPLAY YOUR DATA
Website included to check and showcase your data.
IT'S MULTILINGUAL
Just like ONIX, Onixsuite is multilingual, serving our international client base in their own language.
GiantChair helps publishers and distributors create quality metadata